Do you like Jerseylicious? Want to rub shoulders with the cast at one of the freshest clubs in NJ? Then get your tickets fast for the season 3 viewing party of Jerseylicious at 4Sixty6! See below for details and links:
Click here for more information and to purchase tickets.
Follow 4Sixty6 and the cast of Jerseylicious on Facebook!
Check out the exclusive clip from Diddy's after party @ 4Sixty6! See what you missed!
Not only did Diddy get the royal treatment at club 4Sixty6 after his Diddy Dirty Money Show in NYC last Friday, but he got the royal cake as well. OK! Magazine gives Palermo's Bakery a well deserved shout out!
Is it true that Diddy was given a police escort on the 22nd? We don't know for a fact but we do know that he was getting to mega nightclub 4Sixty6 as soon as he could! Check out the press below:
Click here to nominate and vote: NJRocksNightLife.com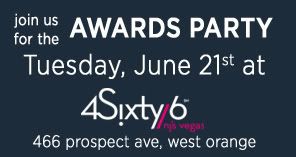 For ticketing information and purchasing click here!
Make sure to check out 4Sixty6 online for more exciting news and events!
Click here for information and directions to Laboratory Hair Studio!
Click here to learn how you can support Project Ladybug's Ladies Night Out and RSVP for tickets!
Memories of an event last a lifetime. Memories of event details fade quickly. So, the "other" party planning begins right after the last guest leaves, the trusses are packed up, the dance floors have been brought back to broom swept condition and the vendors have been compensated for their efforts. An event download begins just hours after the festivities end and appears to form a Top 4* list in support of success. It is interesting to note that while no two parties are alike, both the Event Services Broker (ESB) and the client evaluate the level of success working from a common check list:
1. The Big Picture
Breakdown of an event commences as monies and time spent on invitations, communications, venue, entertainment and a custom list of vendor services are looked at in black and white. Numbers are not airbrushed as are photos! From an ESB's perspective, budgets need to have been met with regard to allocations and "acceptable" margins of profit. A client's viewpoint on success comes into focus when the pleasure received outweighs the financial layout. A priceless feeling is a successful celebration in a client's eyes.
2. Response & Referral
Response & Referral for an ESB is likely to flow as a stream of emails, texts and phone calls from clients. "Thank You" and "Successful Event" are interchangeable and informative! The day after an event is the best time to assess client feedback. Vendor responses are equally as important as they indicate potential repeat business, with personality and work style on file. Family, friends and guests add yet another dimension to the evaluation process.
Success can be measured in a number of ways thanks to the world of social media. A quick click onto Facebook yields candid anecdotes and posted pictures reveal the impact of a job well done. Twitter offers an ESB and client the ability to determine, in real time, the value of an event. A vendor invitation for an ESB to join business networks is an electronic validation of a big hit. Ever popular, blogging is a candid snapshot of what made it all work. Finally, online recognition is a gift to the ESB as social media platforms highlight her/his talents.
3. Free Press
The ultimate validation of a highly successful event is that which is gifted by the media. Lifestyle magazines often pickup event images from a list of their preferred photographers. The pictures appear as invitations to strangers to stand in the dress shoes of guests. If a picture is worth a thousand words then a thousand words spread like wildfire over the internet. Niche vendors, handpicked by the ESB, such as floral talent, showcase crowd pleasing blog entries in order to promote their achievements. Family members and close friends of the client are often on the receiving end of electronically shared photos which have the power to transport users back in time in order to keep the impact of the celebration going strong.
4. Quotation (re)Marks
Testimonials speak to the success of the ESB and client dynamic. They are the bottom line of any final evaluation process. Personal style of an ESB hired to coordinate every last detail of a remarkable event and client input are best offered up by unbiased attendants. Words of praise find their way onto websites and web pages alike. Approval may be voiced at any point in the planning process but is most effective when presented post party time. A seasoned and sought after ESB compiles lists of references for prospective clients to contact. The event giver, too, gathers proof of a successful endeavor with mental and more formal notes of appreciation. Testimonials are community builders. They encourage the growth of business dependencies and lifelong friendships based on trust and admiration.
*Top 5 if one considers the smile which washes over the face of any ESB or client , without notice, while sitting in traffic en route to work, doing laundry or kicking back over a cup of green tea!*