ViaMedic
The team over at The Peer Group is known for many wonderful treatments and services, chief among these concerns is fighting the spectre of aging!
Dr. Isaac Starker was recently interviewed by ViaMedic.com for a blog and podcast piece about important ways to defend against aging.
Click here to read and listen to the in-depth and informative interview: http://bit.ly/lzxKXZ
The Queen Buzz
Last but definitely not least, our good friends over at TheQueenBuzz.com recently visited The Peer Group to experience their work hands on.
Check out this video, courtesy of the Queen Buzz herself, to get a behind the scenes look at dermaplanning:
Capitalizing on some of our most recent and luxurious events, the folks over at northjersey.com (or The Bergen Record as its known to most) sought out our very own Maria Cucciniello's expert opinion regarding luxury brands and social media.
Like we tell all of our clients and strategic partners, social media is where business is happening today and where the now and future customers are engaging with the brands they love to buy or follow. Its a "show up or go home" kind of world these days.
For every business that is utilizing the tools and strategies of today, there are scores more that do not.
Contact us to find out how social media combined with traditional public relations efforts can take your business or brand to the next level.
Click here to read the entire article: http://bit.ly/lTNAvy
ILLUSTRATION / LANCE THEROUX / STAFF ARTIST
See also the media clips of this article below: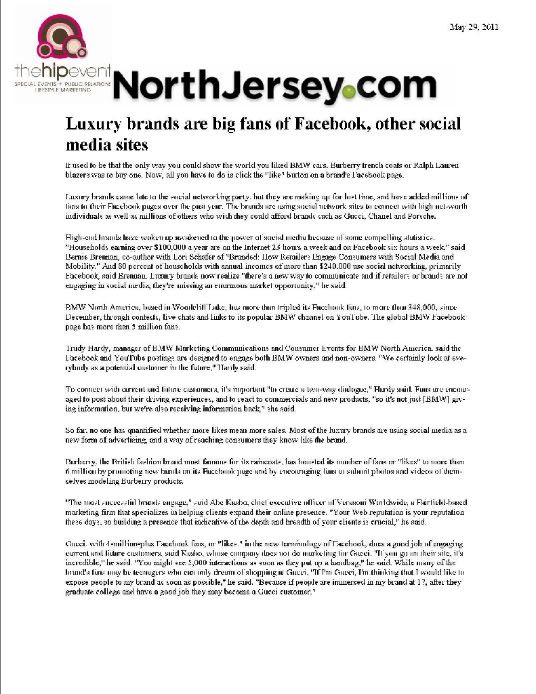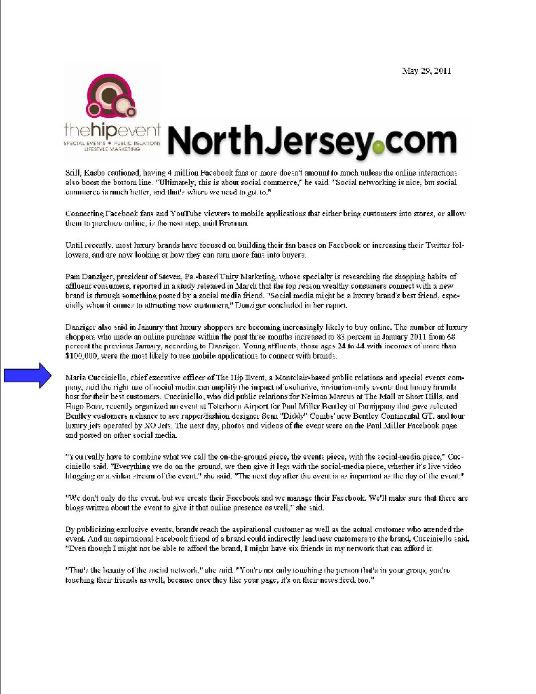 Fresh off the page and just in time for the warm weather, Avenue of Long Branch, NJ is set to unveil their new beach bar!
Starting May 27th, be sure to stop in at Avenue's Le Club to experience the one of the most luxurious hot spots along the New Jersey coast!
Dish on the delicious details, check out the press release below:
Avenue Unveils New Beach Bar
Long Branch, NJ Hotspot Debuts on Memorial Day Weekend
Avenue in Long Branch, New Jersey has unveiled a stylish new beach bar, which will debut on Friday, May 27, 2011. The 2,000 square foot open-air oasis on the sand, which will be open to the public, is located adjacent to Avenue's ocean side deck, next to the restaurant and nightclub's private beach club.
The new beach bar will offer upscale beer, wine, frozen cocktails and a grill menu. Great burgers and perfectly charred sausages are sure to be standouts on star-chef Dominique Filoni's menu.
Along with the cool drinks, delicious cuisine and stunning views, Avenue's beach bar will include a rotation of top international DJ's. Resident DJ Mark Allen, who has been spinning in Ibiza, Spain over the past several summers, is scheduled to light up the beach on weekend afternoons all summer long.
Avenue's new beach bar will be surrounded by a dozen Florida palm trees, transplanted directly into the sand. "Our new beach bar will add another cool destination to the upscale amenities at Pier Village," said Avenue's General Manager Thierry Carrier. "We're excited to provide a cool place to chill-out on one of New Jersey's prettiest beaches".
Avenue, which is located at 23 Ocean Avenue in Long Branch, New Jersey, serves dinner seven nights a week, lunch Mondays through Fridays, and brunch on Saturdays and Sundays. The new beach bar will operate from 12 to 7 p.m. seven days a week through Labor Day. Learn more by visiting: http://www.leclubavenue.com.
#  #  #
The Season 3 premiere party for Jerseylicious was a rousing success! Not to mention a fantastic evening!
Check out some photos from the event on Facebook.
And for an exclusive video from the event see Below!!
Get a jump on Summer!
Check out the latest events by AVE Clifton! Be sure to RSVP on Facebook or email us at rsvp@thehipevent.com.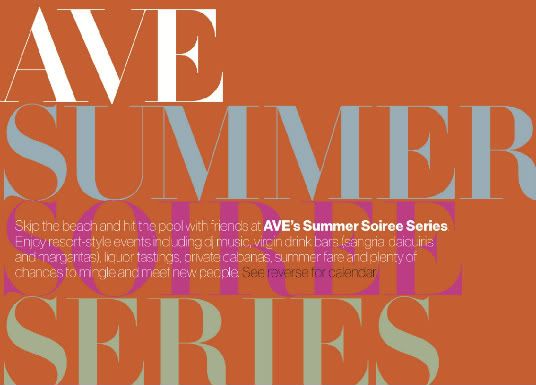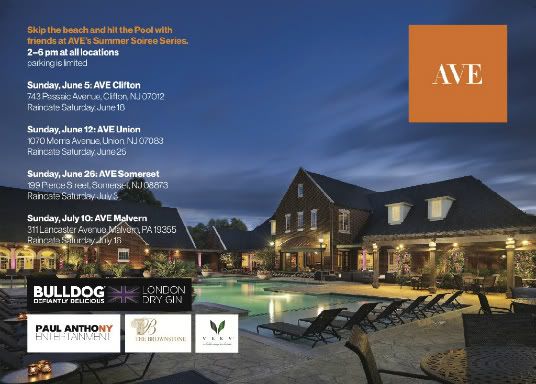 Still celebrating from their awards from Franklin Township, Korman communities AVE is still making headlines!
The New Jersey Has Charm contest held by George Press was a rousing success! JCK seemed to think so too!
Click here for the link: http://bit.ly/jsdRYW
And see the clip below!
Looking to get those legs summer ready? Check out this article on njmyway.com that includes information from The Peer Group and The Active Center for Health and Wellness:http://bit.ly/j5SY5I