You are cordially invited!!
(Click the image to visit our Facebook Event page)
On December 16th, Di MODOLO at The Mall at Short Hills is spreading a little joy this holiday season with their Linked by Love Collection and special guest, Tracy DiMarco from the Style Network's Jerseylicious.
Tracy will be at the store from 12pm  - 2pm signing Di MODOLO jewelry pouches that will be given away with each purchase of the day. In addition, 10% of proceeds will be donated to Tracy's favorite charity, St. Jude's Children's Hospital.
Di MODOLO
The Mall at Short Hills
1200 Morris Tpke.
Short Hills, NJ 07078
Click here for an exclusive Facebook invite.
The current state of media is constantly in flux. Everyone knows that social platforms like Facebook, YouTube, and Twitter are excellent places to support your brand or business's online presence, even if you're not sure what results you want from them. But have you considered using Yelp.com? Yelp is a website dedicated to real people providing real reviews of local business relevant to your nearest city. Its a great way to explore and its also a great site to help grow your business. Check out this article from The New York Times below (or right here) to learn more about why you should use Yelp for your business.
Using the Web to Draw in Crowds
By DAN FOST
Published: May 21, 2008
NIKI RUSS FEDERMAN feels that her 94-year-old family business, Russ & Daughters on the Lower East Side of New York, is fighting for survival in a retail environment under assault by chain stores and generic tastes.
The delicatessen cases loaded with caviar, smoked salmon, pickled herring and homemade cream cheese, not to mention the dried fruits, chocolates and halvah at the sweets counter, signify a bastion in a battle to keep Jewish food culture from disappearing.
Ms. Russ Federman, 30, whose great-grandfather, Joel Russ, founded the store, says that business is thriving — thanks, at least in part, to Web sites that attract young cosmopolitan crowds to the Houston Street store. Those sites include Chowhound, where food lovers flock, and Yelp, which enables anyone to review a business.
"Sites like Yelp make places like us seem hip, as opposed to being seen as stodgy old-school places," Ms. Russ Federman said.
Business owners are learning how to leverage Yelp in their sales efforts. Pat Ryan, 44, who owns Pat Ryan Moving and Storage in San Francisco, said he responded to every review he got on Yelp, good or bad.
One woman wrote a scathing review, Mr. Ryan recalled, because the company had damaged a piece of furniture. She was unaware that an insurance policy she had bought covered the item. "She wrote a one-star review," he said. "I called her. We fully replaced it. And then she upgraded me from a one star to a five-star."
Mr. Ryan said he had doubled his business since he started promoting it on Yelp.
Christopher Hall, 35, a hair stylist and the owner of Splitends, a salon in Costa Mesa, Calif., said Yelp was responsible for "tens over tens of thousands of dollars coming into my business."
It started when Anita L., who has written more than 2,500 Yelp reviews, came in for a haircut and raved about it on the site. That drew others in. "They're all Yelpers," Mr. Hall said. "They write reviews. It's speeding itself like a vacuum."
Last month, Yelp introduced tools for business owners, including a way to contact reviewers privately and to extract more data from the site.
Joe Alexander, 42, a co-owner of Keetsa Mattress in San Francisco, had not heard of Yelp when he started his company last summer, and now he said he got 80 percent of his sales from Yelp.
"I don't spend a dime on TV, newspaper or radio," he said. He hires a search engine optimization company, to make sure he shows up in Google search results, and he buys ads on Yelp. "It blows me away that I can have 80 percent of my people coming from something that maybe costs me two grand a month," he said.
Yelp typically refuses to remove negative reviews, insisting on giving users their say and letting people figure out if one comes from a shill. Jeremiah Owyang, an analyst with Forrester Research, said in an e-mail message that smart business owners would "get involved in Yelp, listening, responding and being an active part of the dialogue, some going so far as to place signs on their physical doors requesting reviews."
"Why request reviews?" Mr. Owyang continued. "Research indicates that customers trust other reviews from peers like them. In fact, 83 percent trust opinions of a friend or acquaintance who has used the product or services. Only 63 percent of consumers trust a review of an expert. You can see where this is headed. Yelp is allowing customers to connect to each other, rather than relying on experts. Word of mouth prevails."
DAN FOST
Stop by Laboratory Hair Studio and donate to help support the Morristown Interfaith Food Pantry during this holiday season!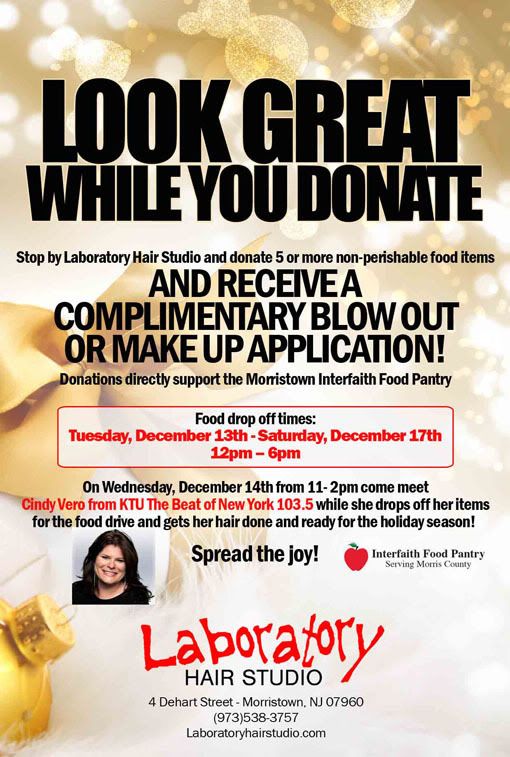 Di MODOLO, a beautiful jewelry store located in The Mall at Short Hills, held a special event to help give back to the greater NJ community. For this event, they help raise money to support the Community Foodbank of New Jersey.
Pictures from this event can be found right here on our Facebook page.
JerseyFashionista.com stopped by that day too. Click the image to see her original blog post on the event:
Iconic Fashion Lounge, owned by Lauren Proske will be celebrating their store opening with two special events.
Kicking off the celebration, Iconic Fashion Lounge will host an Ultimate Male Experience event on Wednesday, December 7 from 7 to 10 p.m. where the fellas can enjoy a relaxing guys night out consisting of music, drinks provided by Bulldog London Gin, and delicious hors d'oeuvres. A cigar roller will be on hand for all those who like a smoke with their cocktail. This is a special fashion night for all the guys to check out what Iconic Fashion Lounge has to offer from the latest styles and trends in menswear along with special gifts with purchase.
On Thursday, December 8th from 7 to 10 p.m. the gals are invited to enjoy a night of cocktails and delicious food from The Real Housewives of New Jersey's The Brownstone, cupcakes and other signature desserts from ALM Dessert Bar during the Ladies Night Out event. The night will be filled with special discounts and gifts with purchase as guests enjoy music, cocktails and preview the latest styles and brands Iconic carries. Get beautified by Kathy Genchi, one of area's most famed Bobbi Brown make up artists who will be on site doing touch ups throughout the night.
Both events are free and open to the public, but space is limited so guests are asked to RSVP to reserve their spot to rsvp@thehipevent.com or call us at (973) 707-7125.