The spring season brings the world many gifts. Yes we're talking about the perfect warm weather after a blistering cold winter, sunshine, flowers, new fashion trends, and more; but there is something more important we have on our minds.
Right now we are in the midst of Gala Season, the time of the year where all types of people have the opportunity of getting dressed in their bests for a night out in order to celebrate a unique aspect of their community and support a great cause. What is so amazing about specific Gala events are that they bring out the best in so many people. This just happens to be the most charitable time of the year and New Jersey is home of some of the most fun and charitable events of the season. It's really hard to resist the idea of getting dressed up in a beautiful gown or breaking out the tuxedo for a night of fun and the warm feeling of knowing you made a positive difference in someone's life.
So you're probably sitting there right now just about ready to type "local galas coming up" in your Google bar. Well no need for that! We are about to give you the inside scoop of the most popular Gala's happening in our area and how you can get involved.
April 9: Montclair Art Museum host Decades: A Century of Fashion
We have been buzzing about this event for months now and we are so excited that the day is almost here. Although this is not your typical night out on the town, gown/tuxedo-wearing Gala, it is still a fun-filled afternoon of glitz and glam, with celebrity guest speaker, Cameron Silver. Silver is a world-renowned designer, red carpet trendsetter and owner of Decades; a couture vintage boutique that brought a new standard to everyday dress in Hollywood. The museum welcome's Silver all the way from his L.A. hometown on April 9, 2014 from 11am to 3pm for a luncheon, lecture and vintage trunk show of his rare couture finds.
East coast residents can enjoy this once in a lifetime opportunity to meet Silver and shop his collection in-person during this specially-curated event. Cameron Silver will take each guest though a century of fashion, which will include; his inspiration on choosing the right garments for his celebrity clients, his red carpet commentary and his most recent place in Hollywood as a Bravo hit reality television star on,  "The Duke of Melrose". After listening to Silver's inspirational journey in fashion and the arts, partake in a luxury basket raffle from chic contributors throughout our area.  Items include special packages donated from Steve Madden, Bangz Salon and Spa, Bobbi Brown Cosmetics, and shopping sprees from Montclair boutiques such as Stella and Dot, Dot Reeder, Barbara Eclectic and much more. Tickets start at $150 per person and are available at http://www.montclairartmuseum.org/.
April 26: The Montclair Art Museum Salutes a Century with a Grand Celebration
The Montclair Art Museum is a notable-community based institution with an international reputation and it is located in our home state. So to really celebrate 100 years upon opening their doors to the public, The Montclair Art Museum has put together a Centennial Ball followed by a Fashionably Late Dance Party. Guests are invited to partake in the fun by dressing from their favorite decade, as the mannequins will be in vintage clothing for a chic soirée to celebrate art and fashion through the century. Cocktails will be held in Leir Hall at 6:30pm inside the Museum followed by dinner in the Grand Tent at 8:00pm on the front lawn. The gala will celebrate MAM's past presidents and founders William T. Evans and Florence Rand Lang as well as leaders who have helped transform the museum galleries through the decades.  Guests will enjoy sounds from a capella group "Unaccompanied Minors" and a solo from 16 year-old Montclair Kimberley Academy student Kimani Freeman showcasing 20th century favorites with the Hank Lane Band. A silent and live auction will also be held in celebration of art and the future it holds at the museum with luxury gifts from H. Stern, Marchesa and many more. The night is then all tied together with a fashionably late dance party, giving everyone the perfect excuse to get dressed up and dance the night away.
MAM is hosting the party you don't want to miss. The Fashionably Late Dance Party portion of the night will include lounge style seating, music by New York City Celebrity DJ, Gabriel Levy, and bites of comfort food delicacies from NYC eatery The Melt Shop as well as street car eats from Applegate Farms. There are even private coach busses bound for Montclair on the night of the event so that city dwellers can attend. Tickets to the Centennial Ball start at $500 per person and $75 per person for the Fashionably Late Dance Party and can be purchased at www.montclairartmuseum.org.
May 2: Paper Mill Play House the Curtain Up on the 76th Season Gala
Most of us know that The Paper Mill Play House is New Jersey's famous home for the art of American Musical Theater, bringing "Broadway to Our Own Backyard." Not only do they give back to the community by providing quality entertainment for all to see, but they also host and annual fundraising gala that ensures a bright future for non-for-profit art organizations.  On May 2, Paper Mill Playhouse will hold its most important fundraiser of the year, the Curtain Up on the 76th Season Gala, at the renowned Hilton Short Hills.
This black tie evening will include dinner, dancing, notable auctions, and Broadway entertainment like you have never seen it before. The Curtain Up on the 76th Season Gala will also feature performances from The Eddie Bruce Band and students from Paper Mill's Education programs. And this wouldn't be a proper Gala event if it didn't honor those who contribute to making Musical Theater what it is today.
Television, screen and stage icon, Tony Danza, will accept the Frank Carrington Excellence in the Arts Award during the Gala. Danza has recently made his Paper Mill Play House debut in the world premier musical Honeymoon in Vegas in a critically acclaimed performance as Tommy Korman. Paper Mill will also be honoring Linda Bowden, New Jersey Regional President at PNC Bank, who will receive the Byrne/Kean Arts Advocate Award.  Linda and PNC are playing an important leadership role in keeping Paper Mill and the theater arts so vibrant in our state.
Last year's gala was an extraordinary event and sold out very quickly, if you are interested they encourage you to act as quickly as possible. For more information, you can contact Leigh Schaedel via email or call (973) 315-1663.
May 31: South Orange Preforming Arts Center's Gala Celebration with Barbra Cook
New Jersey continues to honor the world of arts and entertainment at the South Orange Preforming Arts Center's Gala Celebration. On May 31, SOPAC hosts an evening with Barbra Cook, who is considered "Broadway's favorite ingénue" for the successful reputation she gained during her prime on the Broadway Musical scene. Her silvery soprano, purity of tone, and warm presence continue to delight audiences around the world. After taking a bit of a hiatus from Broadway, Cook returned to the stage in 2011 and was then nominated for a Tony Award for her performance in the musical Sondheim on Sondheim.
May 31 is your chance to experience Barbara Cook's graceful presence and musical talents first hand with SOPAC. Join them for this intimate concert, which will be the culmination of the South Orange Performing Arts Center's Gala Celebration. Orchestra seating at the $325 and $225 levels include a formal dinner in the loft at 7pm. Other sponsorship packages are available by contacting the Development Department at 973-382-1033.
There's no better way to enjoy a night of entertainment and celebration than by celebrating the world of Art's and Entertainment. Now that you know the when, where, why, and how's of the hottest Gala events in our area this season, it's time to start planning out your outfits. Remember, when it comes to a Celebratory Gala Event, the more glitz and glam the better!
Make these simple brown paper placemats for Thanksgiving dinner this year and have everyone read their list of things they're grateful for before dinner! Don't forget to set the scene; lighting candles brings warmth and adds that special something to holiday decor.
Everyone loves a little pumpkin around the holidays-make a special drink & enjoy with the family!
We're loving this chic + casual Thanksgiving outfit. An oversized beanie would top this off nicely and a fitted leather jacket never goes out of style.
Don't forget your camera to capture the memories. 1 picture says 1,000 words.
Amazing idea Alert!: Print your pictures, spray paint a piece of wood black and cut the picture to match the size of the wood. Using Mod podge coat the wood then lay the picture on top. Once it has dried thoroughly, use sandpaper to rough up the edges, then put a layer of mod podge over the picture. paint some eye hooks and use pretty ribbon as a hanger and voila; your memories are saved in a super cute original way.
Happy Thanksgiving!
Love,
The Hip Event xo
This year's Emiliani Beauty Expo was incredible! The title of the show, "Vision Becomes Reality," was spot on. We saw a lot of amazing shows put on by some of the industry's best and brightest. Below are just some of the media clips the show received during its star studded weekend.
The Hip Event's Maria Cucciniello is interviewed by runway maverick, Chance, during the expo.

Chance interviews Z100′s The Morning Show with Elvis Duran's Carla Marie.

This incredible video shows some of what you may have missed brought to us from Eleven Eleven Productions:

The Salon Guy takes us through some of the highlights of this years show

And one of the many celeb sightings that happened during the weekend, Jacqueline Laurita of the Real House Wives of New Jerseywas spotted rubbing elbows with hair's biggest names.
We just wanted to update all of you with some of this years Fashion and Beauty Week final media clips:
The Salon Guy interviews The Hip Event's Maria Cucciniello during this years Fashion and Beauty Week.

The Salon Guy interviews Laboratory Hair Studio's Mark Kuzma during this years Fashion and Beauty Week.

The Active Center for Health and Wellness got a chance to make an even bigger difference recently, when they sponsored a glamorous fundraiser for the Xperience Outreach Foundation. Xperience is a youth focused organization that aims to provide inner city children inspiration and encouragement through mentoring, coaching and the sharing of life-changing experiences by some of sport's most celebrated athletes. Graciously hosted by the beautiful Joumana Kidd and superstar athletes Alan Houston and David Tyree, the evening sported both silent and traditional auctions, music was provided by WKTU's Paul "Cubby" Bryant, wonderful food and drinks with a dedicated mixologist to boot, and decor by none other than Dina Manzo. Overall, the night was a resounding success with all proceeds from the auctions benefiting the foundation.
Click the images to see exclusive photos from the event and watch our official video from the event.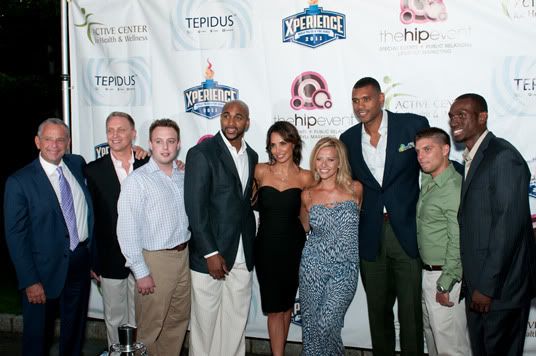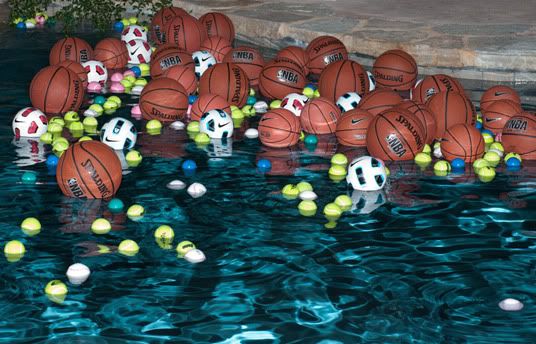 Also, click on the clippings below to get some first hand impressions from the event.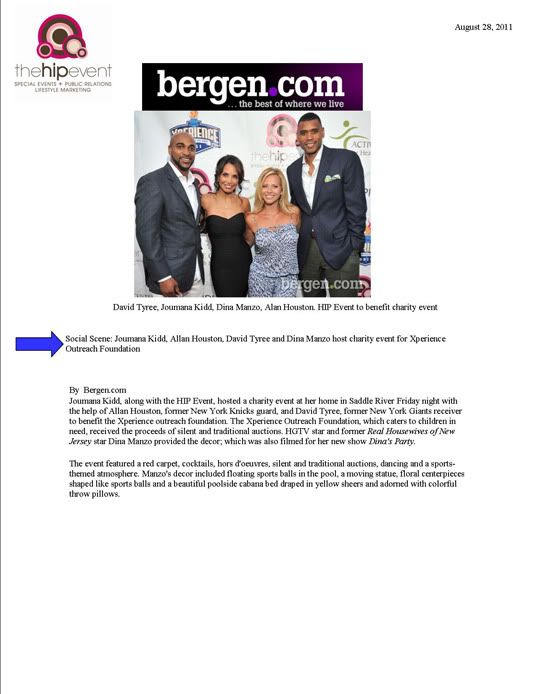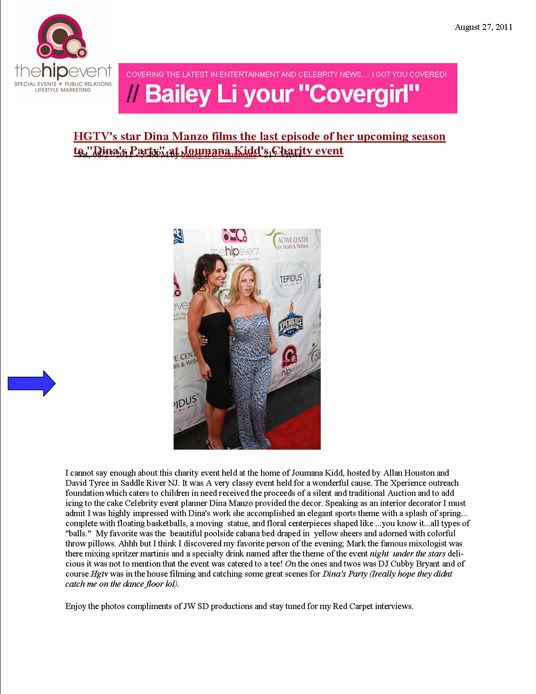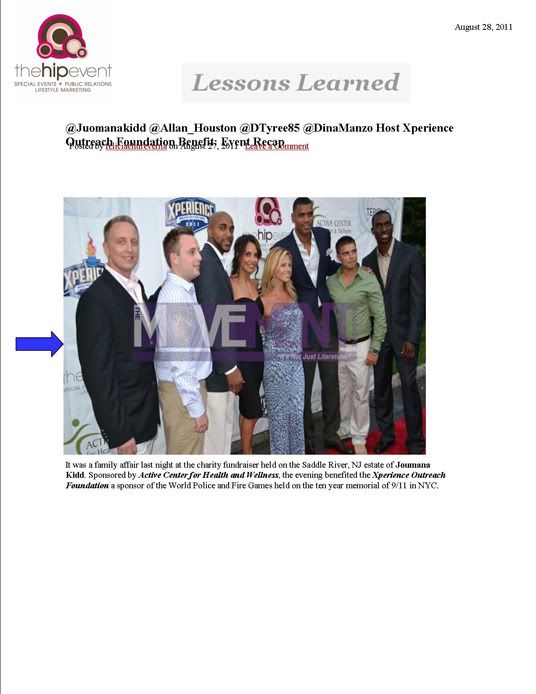 It's been a very interesting week here around the HIP office: we've been busier than ever and despite the summer heat our AC has been freezing us out! But why bore you with work. Here are the real interesting tid-bits from this week in case you missed them.
BE! (Beauty Entertainment) Magazine got a glimpse of Laboratory Hair Studio owner Mark Kuzma bringing his "Mad Scientist" flare to his styling work.
The ever glamourous Dina Manzo is gearing up for the launch of her new HGTV show "Dina's Party" which begins airing in September. The Star-Ledger recently sat down with her to pick her brain. On Monday August 15th, right after an episode of "Design Star," a preview of Dina's new show will air. Go set your DVR's!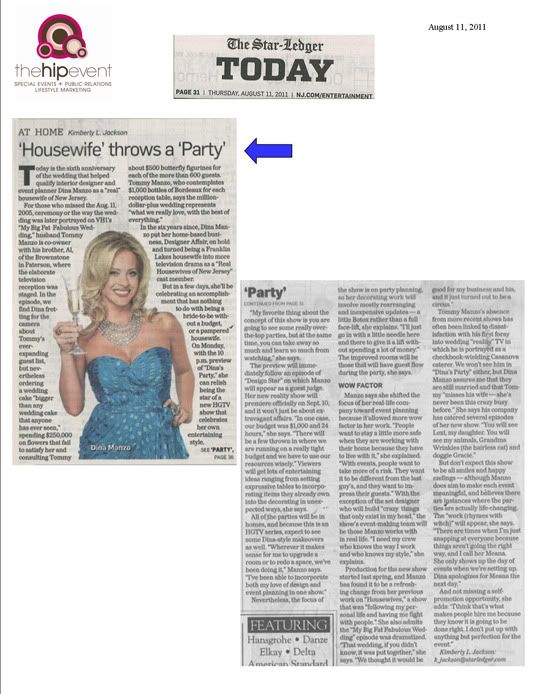 Finally, our fascinating week came to its peak with an event from last weekend. Kelly Rowland appeared at 4Sixty6 in West Orange last weekend and well…take a look at this clip, it says it all:
Check back with us soon. You never know what we'll have to report next!
Diddy didn't disappoint on Friday, April 22nd. After a fantastic engagement at the world renown Hammerstein Ballroom, Diddy took a trip to 4Sixty6 in West Orange, NJ to celebrate the show. Check out some of the exclusive pics on our Facebook page!
What a night, what a night! The Hip Event was out in style last night for the delivery of the very first 2012 Bentley Continental GT in America!!!
Hosted in Atlantic Aviaiton's hanger on site at the Teterboro Airport, the new Bentley and a gorgeous classic Bentley were flanked by two sleek jets from XOJET. The showgirls from Caesars Atlantic City helped to give it even more dazzle.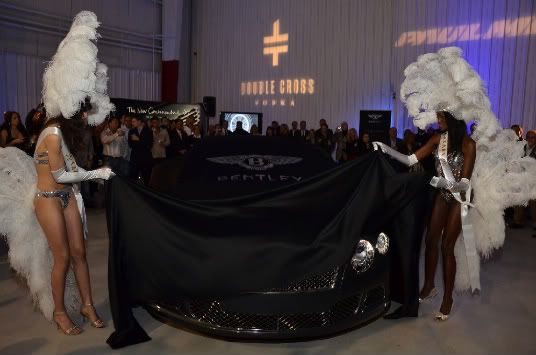 Guests were treated to drinks courtesy of Double Cross Vodka and the soundscape was provided by DJ Shughes. To top it all off, the audience was addressed by our very own PR maven, Maria Cucciniello and Dan Daly of Paul Miller Bentley Parsippany before the splendid vehicle was unveiled for everyone by the enigmatic Christophe Georges, President and CCO of Bentley Motors, The Americas.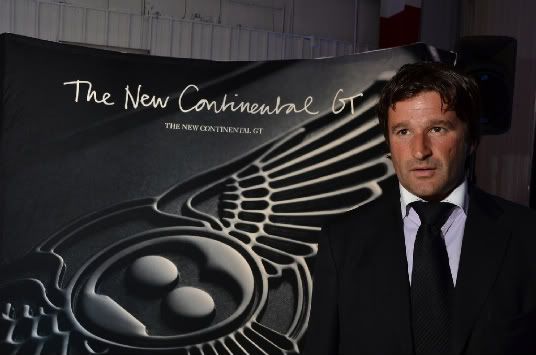 All in all, another amazing event! A special thank you to all those who made this event possible including the fantastically vivacious Hip Event Staff and Interns!
Check out our Facebook page for more photos of this event and more!