As we all know, October is breast cancer awareness month, a time to reflect, remember, and cherish those we have lost and those who have survived breast cancer. All throughout the month, a variety of events are held to raise funds and awareness for the cause. Among all of these events were a special series of fashion shows that were produced in the Simon malls on October 8th in Rockaway and in Livingston on the 9th.  With our help and participating stores throughout each mall, two wonderful shows highlighted current fashion trends and some amazing breast cancer survivors.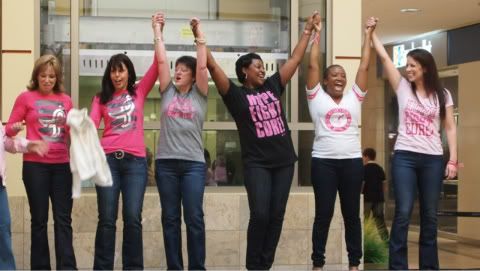 And when I say amazing, I mean A M A Z I N G!!!
Over the course of the two days, people gathered to enjoy music, makeovers, fashion and fun to support their friends and family. The events helped survivors learn that there is life after cancer and a great one at that. All models for the fashion show were breast cancer survivors who individually added their own unique charms to the events. American Idol's Tiffany Rios was also in attendance for both events and performed a few of her new singles including an upbeat version of Celine Dion's "To Love You More."
Overall, it was a memorable event and left a great feeling of hope amongst the crowd.